E-BOOK
Business Glossary: An essential component of a Data Catalog for data fluent organizations
"A good data catalog tool must offer a solution that administers business concepts, allows them to be linked to the technical assets that implement these concepts, and thus opens up the use of the catalog enterprise-wide."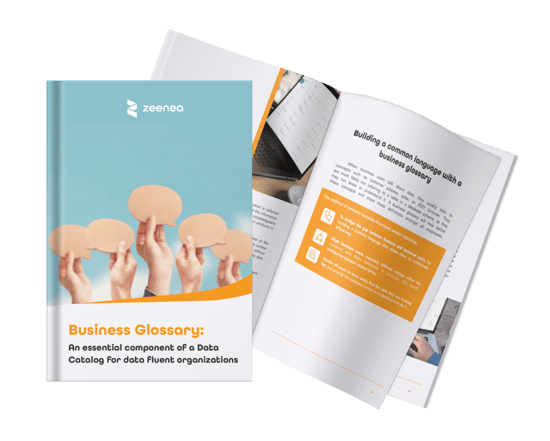 Overview
Data Quality usually refers to a company's ability to ensure the longevity of its data. At Zeenea (a data catalog provider), we believe Data Quality is ensured through the 9 following dimensions - all essential to extract value to your company:
🔸 Completeness
🔸 Accuracy
🔸 Validity
🔸 Uniqueness
🔸 Consistency
🔸 Timeliness
🔸 Traceability
🔸 Clarity
🔸 Availability

We will detail these dimensions with the help of a simple example in part one. We will then elaborate on how Data Quality management is an important challenge for organizations seeking to extract maximum value from their data.
We will also draw parallels between these different Data Quality dimensions and the different risk management phases to overcome - identification, analysis, evaluation, and processing. This will enable you to hone your risk management reflexes by tying in Data Quality improvement processing to a company objective (and evaluating the ROI on each quality dimension).
Once we have established the main features of an enterprise Data Quality management tool, we will detail how a Data Catalog - though not a Data Quality tool - can contribute towards Data Quality improvement (through the clarity, availability, and traceability dimensions mentioned above).
Overview
Setting up your data catalog involves first and foremost connecting it to the data sources and physical systems in which your assets are stored in order for users to begin inventorying them. You'll need this inventory to get a first level of information: Storage system, location, access modes, formats, types, etc.
With the help of automation, a certain amount of information is collected and this often provides a detailed technical documentation of what is in the information system. Standard data catalog solutions then enable knowledgeable data users to complete this documentation, by adding classification attributes to describe in more detail the company's technical ecosystem.
Whilst this information is useful for more technically orientated users (engineers, architects, etc.), it often remains unclear to the growing number of enterprise data consumers. This will prevent these from exploiting and governing the data effectively. In order to provide the necessary context for the use of this data, users need different types of information: organizational, statistical, compliance, etc.
To be clear, the technical documentation must be accompanied with semantic information. This is the purpose of the implementation of a business glossary.