E-BOOK
The 10 traps to avoid
For a Successful Data Catalog Project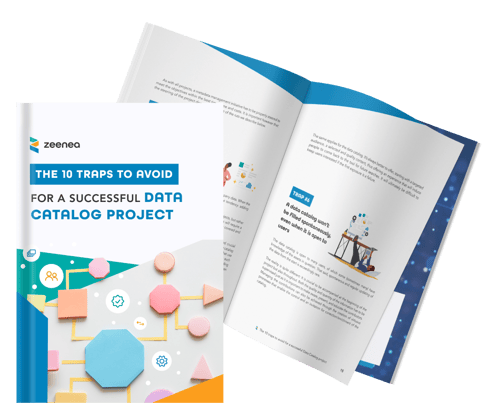 Overview
Data Quality usually refers to a company's ability to ensure the longevity of its data. At Zeenea (a data catalog provider), we believe Data Quality is ensured through the 9 following dimensions - all essential to extract value to your company:
🔸 Completeness
🔸 Accuracy
🔸 Validity
🔸 Uniqueness
🔸 Consistency
🔸 Timeliness
🔸 Traceability
🔸 Clarity
🔸 Availability

We will detail these dimensions with the help of a simple example in part one. We will then elaborate on how Data Quality management is an important challenge for organizations seeking to extract maximum value from their data.
We will also draw parallels between these different Data Quality dimensions and the different risk management phases to overcome - identification, analysis, evaluation, and processing. This will enable you to hone your risk management reflexes by tying in Data Quality improvement processing to a company objective (and evaluating the ROI on each quality dimension).
Once we have established the main features of an enterprise Data Quality management tool, we will detail how a Data Catalog - though not a Data Quality tool - can contribute towards Data Quality improvement (through the clarity, availability, and traceability dimensions mentioned above).
Overview
The methodology used to implement a data catalog won't be the same from one company to another, and many factors have to be taken into account for the project to bear fruit. The right method is the one that takes these factors into account while at the same time avoiding potential traps to ensure the success of the project.
Metadata management is an important component in a more global data management project and it requires more than just the data catalog solution, however, connected it may be.
A data catalog tool will of course reduce the workload but won't in and of itself guarantee the success of the project.
This ebook is the fruit of a variety of contexts (industry sector, company size, culture, etc) we have encountered along the way and its purpose is to highlight the pitfalls and preconceived ideas that should be avoided when rolling out an enterprise-wide data catalog project.
The 10 traps described in this document are articulated around 4 central themes that are crucial to the success of the initiative:
🔸 Data culture within the organization,
🔸 Internal project sponsorship,
🔸 Project leadership,
🔸 The technical integration of the data catalog.